Information
Shipping & Returns
Privacy Notice
Conditions of Use
Contact Us
Site Map
Gift Certificate FAQ
Discount Coupons
Newsletter


1 Channel RF Light Remote Controller Timing / Delay Control Mode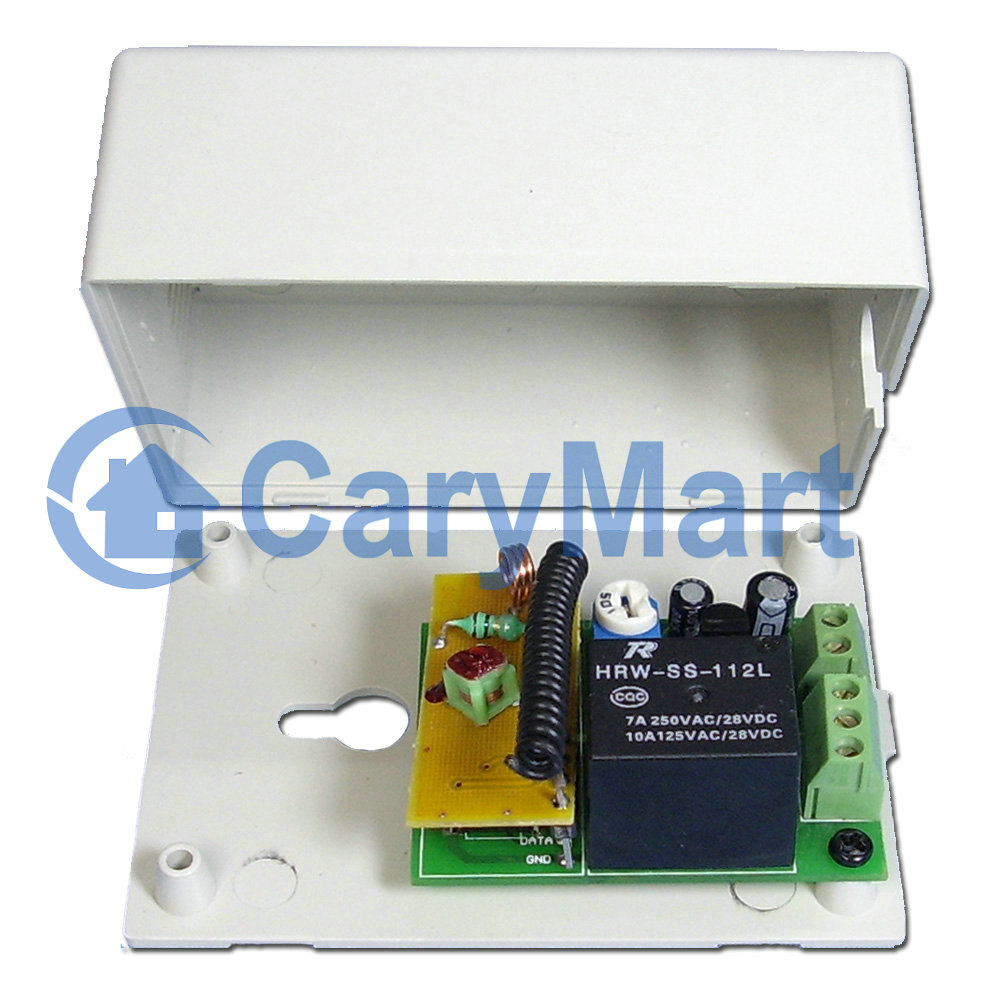 Video: DC RF Timer Remote Control Kit for DC Lamp

Feature:

Wireless control, easy to install
Adjustable delay time :2~40 seconds
Relay output, can control Lights, Motors, Fans, electrically operated Doors/Locks/Windows/Blinds/Cars or Other Appliances with AC110-240V or DC 0~28V.
You can turn on/off the receiver with transmitter (remote control) from any place within a reliable distance; the wireless RF signal can pass through walls, floors and doors.
With characteristics of reverse power protection and over current protection
Use an 8-bit microprocessor designed and developed with low-power and high-speed CMOS technology.
Reliable control: The transmitter (Encoding) and the receiver (Decoding) use an 8-bit code.
One/several transmitters can control one/several receivers simultaneously.
If you use two or more units in the same place, you can set them with different codes.
Receiver Parameters:
Model No.: S1D-DC06 / S1D-DC09 / S1D-DC12 / S1D-DC24
Power Supply (Operating Voltage): DC6V (S1D-DC06), DC12V±1V (S1D-DC12), DC9V±1V (S1D-DC09), DC24V±2V (S1D-DC24)
Working Frequency: 315MHz / 433MHz
Channel: 1 CH

Control Mode: Delay (Press -> ON; after delay time -> OFF)
Output: Relay output (Normally open and normally closed)
Working Voltage Range of Relay: AC110~240V or DC0~28V
Maximum Working Current of Relay: 5A
Static Current: ≤10mA
PCB size: 44mm x 32mm x 20mm
Case size: 75mm x 55mm x 30mm
Work with Fixed code transmitters.
The receiver can pair different model transmitters, includes model C-1 (100M), CWB-1 (50M, waterproof), CP-1 (500M) and CB-1 (1000M) etc...
If you want to have a further working range, you can install an external antenna to the receiver, such as magnetic mount antenna (model 0020909), which working range is three times as much as it used to be. Or telescopic antenna (model 0020908), which working range is twice as much as it used to be.
Usage (with the transmitter):
Connect DC power to terminal "+" and "-".
Initial state of relay output terminals: Terminals A and B are Normally Open; Terminals B and C are Normally Closed.
1) Press the button on the transmitter: Turn on relay (connect terminal A and B, disconnect terminal B and C)
2) After 2~40 seconds delay time: Turn off relay by itself (disconnect terminal A and B, connect terminal B and C)
3) Turn R1 clockwise to prolong the delay time. Turn R1 anti-clockwise to shorten the delay time.

Related Products