Information
Shipping & Returns
Privacy Notice
Conditions of Use
Contact Us
Site Map
Gift Certificate FAQ
Discount Coupons
Newsletter


1500M 315Mhz / 433Mhz Wireless RF Signal Repeater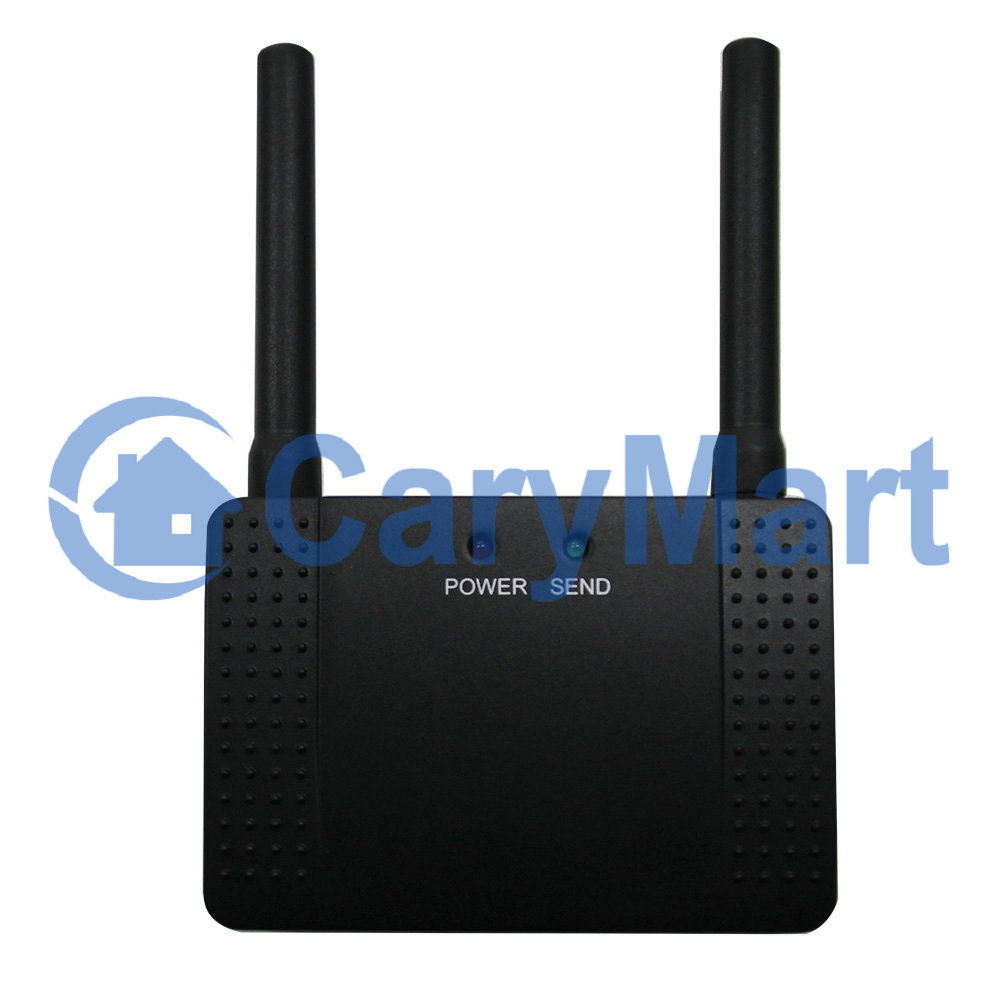 Feature:
Signal repeater is a wireless signal relay set. It receives weak wireless signal and then send out this wireless signal with strong power to extend the transmission distance.
The RF signal should be:
1) Same frequency to the repeater.
2) Oscillating resistor should be matched with repeater
This repeater supports 1527/180K, 1527/300K, PT2262/1.2M, PT2262/2.2M, PT2262/3.3M, PT2262/4.7M, PT2240/1.5M, and it has learning function, up to learn 100 pcs transmitters. So it can repeat the one learned, to avoid others transmitters.
Specification:
Working frequency: 315 MHz / 433.92MHz
Working voltage: DC12V
Standby current: 30mA
Working current: <255mA
Receiving sensitivity: -108dBm
Transmission distance: over 1500 M in the open area
POWER: power indication
SEND: Repeating indication. It will be on while transmitting signal.
8 gang DIP switch: At the bottom of the housing, each gang has on/off status. The instruction as below:
1-gang:  ON position means repeating signal of PT2262/1.2M. OFF position has no function.
2-gang:  ON position means repeating signal of 1527/180K, PT2262/2.2M or PT2240B/1.5M. OFF position has no function.
3-gang:  ON position means repeating signal of PT2262/3.3M. OFF position has no function.
4-gang:  ON position means repeating signal of 1527/300K, PT2262/4.7M. OFF position has no function.
5-gang:  Adjust repeating time - OFF position mean 1.5s. ON position means 3-5s (ON position is stable position. OFF position are multiple transmitter modes)
6-gang:  Transmitter selection - ON position just repeats the learned transmitters (If there are more than 2 repeaters in same place, please use this function). OFF position can repeat all the signal which match with it
7-gang:  When it learns transmitter, please switch to ON position. Or not, turn to OFF position.
8-gang:  Testing function - Turn to ON position, the device always transmits the signal of PT2262/1.2M. When it is working normally, turn to OFF position.
Operation:

1) Install antenna: Please install the 2 antennas to the device when first time use. (No order)
2) Deploy repeater: Please put the device in the middle between transmitter and receiver and adjust well the distance according the signal of transmitter. When it is ready, please also adjust the receiver well
3) Set working mode: Connect to DV12V power supply, the POWER indicator LED will be on. The repeater goes into working status.
Adjust the DIP switch to select transmitting signal. 1 gang to 4gang means transmitting signals. (Note: There is only l gang allowed to be ON position when it is working. If all the first 4 gangs are in OFF position, it repeat signal of PT2262/4.7M)
4) Learn transmitter: Turn 6-gang, 7-gang to ON Position. Select the right regular from 1~4gang. Then trigger the transmitter, the SEND indicator LED flicks twice, it shows the learning finished. When all the transmitters learned, turn 7-gang to ON position. This repeater works and just transmits the learned transmitter
5) Delete transmitter: Before power on the device or in 15 seconds after power on Turn 7-gang and 8-gang to ON position. The SEND indicator LED flicks 3 times. All the learned transmitters are deleted.
Notice:

1) Install the antenna to upwards, and do not put it near the metal things and wall.
2) This device is not waterproof.
3) If receiver cannot receive signal, please adjust distance between repeater and transmitter, up to the repeater can receive the signal from transmitter, and then adjust the receiver to the repeater.
4) Power supply is DC12V output current is no less 300mA
5) Before power on this device, please make sure 7-gang and 8-gang are not in ON position at same time, or it will delete all the learned transmitters.

Package Include:
1 x Signal repeater: R-02
1 x User manual

Related Products