Information
Shipping & Returns
Privacy Notice
Conditions of Use
Contact Us
Site Map
Gift Certificate FAQ
Discount Coupons
Newsletter


1CH wireless remote control - Momentary control mode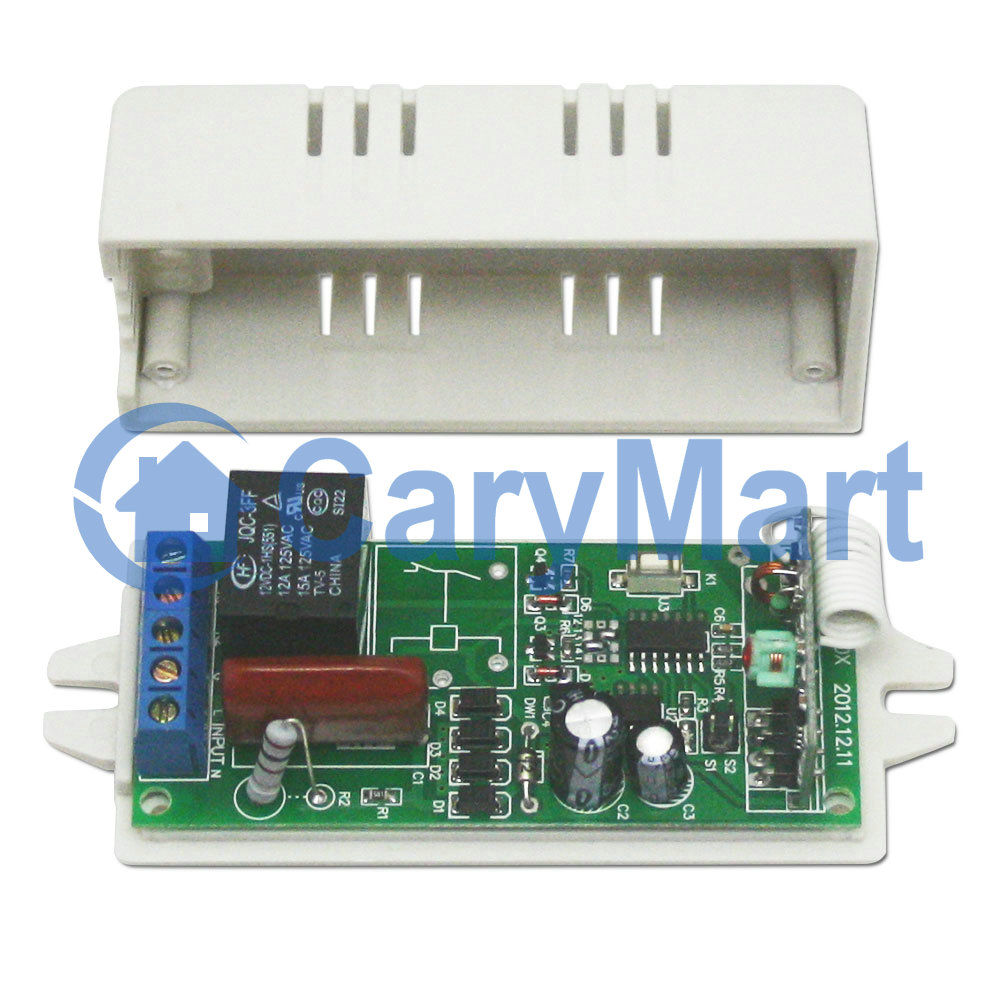 Feature:
Wireless control, easy to install.
Control Lights, Motors, Fans, electrically operated Doors/Locks/Windows/Blinds/Cars or Other Appliances.
You can turn on/off the receiver with transmitter (remote control) from any place within a reliable distance; the wireless signal can pass through walls, floors and doors.
Reliable control: The transmitter (Encoding) and the receiver (Decoding) use an 8-bit code.
One/several transmitters can control one/several receivers simultaneously.
If you use two or more receivers in the same place, you can set them with different codes.
Transmitting Frequency: 315MHz / 433MHz
Receiver:
Model No.: S1M-AC110 / S1M-AC220
Channel: 1 CH
Control Mode: Momentary (Press and hold -> On; Release -> Off)
Coding Type: Fixed code
Coding Setting: By learning
Power Supply (Operating Voltage): AC100~120V (S1M-AC110), AC200~240V (S1M-AC220)
PCB size: 80mm x 35mm x 14mm
Case size: 100mm x 40mm x 24mm
Maximum Working Current: 3A
Usage:
Connect the neutral wire to the terminal "1", and the live wire to the terminal "2". Connect the lamp to the terminal "5" and he neutral wire.
Press and hold button, turn on the lamp; Release button, turn off the lamp.
Package Include:
1 x Receiver: S1M-AC110 / S1M-AC220 (1 Channel / Momentary Control Mode)
1 x User manual   

Related Products