Information
Shipping & Returns
Privacy Notice
Conditions of Use
Contact Us
Site Map
Gift Certificate FAQ
Discount Coupons
Newsletter


3000M 400mW RF Wireless Transmitter Module: TB-05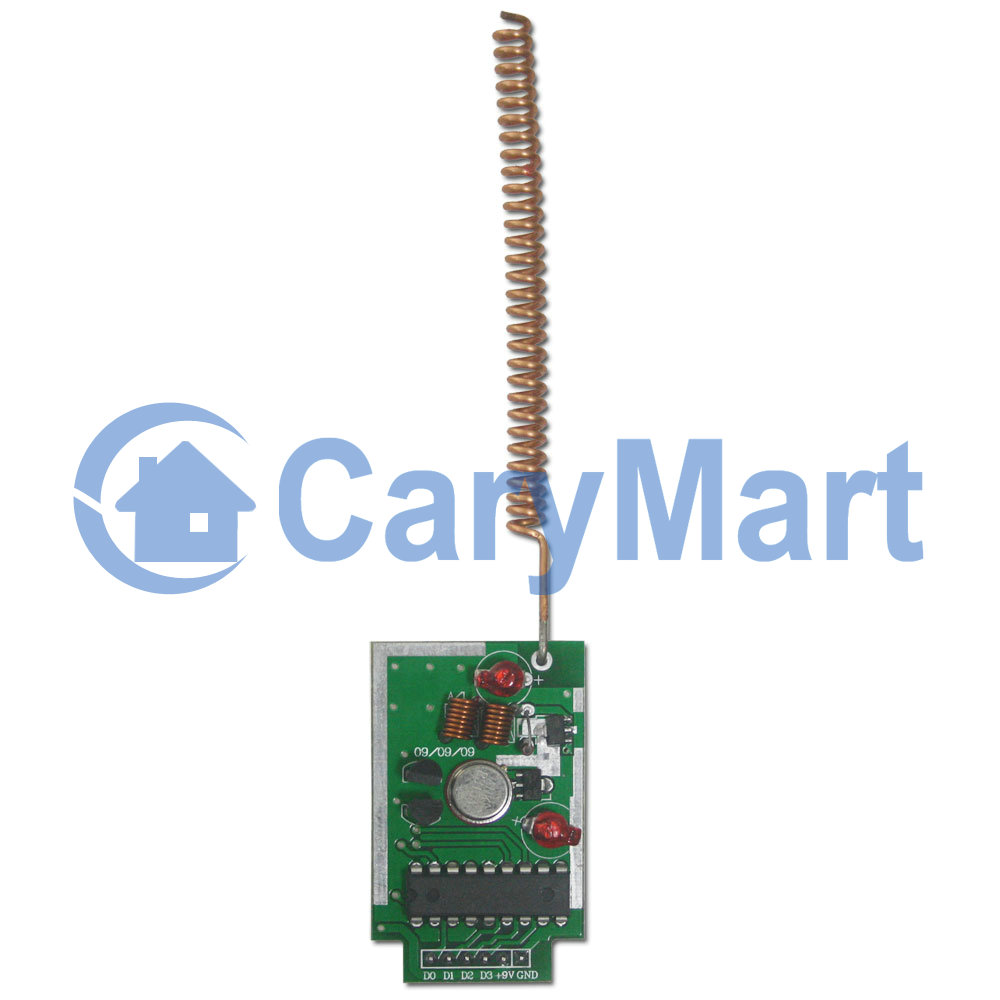 Feature:
Model No.: 0021038 (TB-05)
Dimensions: 49mm x 31mm x 8mm
Working Voltage: DC 6~9V
Working Current: 100~250mA
RF Sensitivity: -107dBm
Transmitting Distance: 3000m / 9000ft (in open field)
Transmitting Power: 26dBm (400mW)
Modulation Method: Amplitude modulation (ASK or OOK)
Encoding Mode: Fixed code by Soldering
Working Temperature: -20°C ~ +70°C
Frequency: We can offer 315 MHz or 433.92 MHz, you can choose one
Oscillation resistor / Timing resistor: We can offer 1.2M, 1.5M, 1.8M, 2.2M, 3.3M or 4.7M, you can choose one.
Reliable Control: Use an 8-bit code (Encoding).
Stable performance; using SAW (surface acoustic wave) to stabilize frequency
Wide working voltage range, large transmitting power and long transmission distance
Application:
Used for wireless calling system, burglar alarm, wireless data transmission, auto data collection system and so on.
Applied with our receivers
Notes:
The transmitting frequency, encoding mode and timing resister should be compatible with the receiver.
It is best to use the antenna of 1/4 wavelength, for antenna has a great impact on receiving effect of the module; normally using 50Ω single core cable. For frequency 315MHz, the length of antenna is about 23cm; for 433MHz, it is about 17cm.
The position of antenna also affects the receiving effect of the module. When installing the antenna should be extended as much as possible and be away from the shield and the place in high pressure and interference
Introduction of pin:
| | |
| --- | --- |
| Pin | Function |
| D0 | data pin |
| D1 | data pin |
| D2 | data pin |
| D3 | data pin |
| +9V | positive power supply |
| GND | negative power supply |
| ANT | antenna |
Operation:
Firstly, connect the positive of power to the pin of +9V and negative of power to GND. In the meanwhile, connect any one data pin of D0 ~ D3 to the pin of +9V. Then it will transmit the corresponding signal.

Related Products