Information
Shipping & Returns
Privacy Notice
Conditions of Use
Contact Us
Site Map
Gift Certificate FAQ
Discount Coupons
Newsletter


4 Button 5000M Longest Distance Two-way RF Remote Control / Transmitter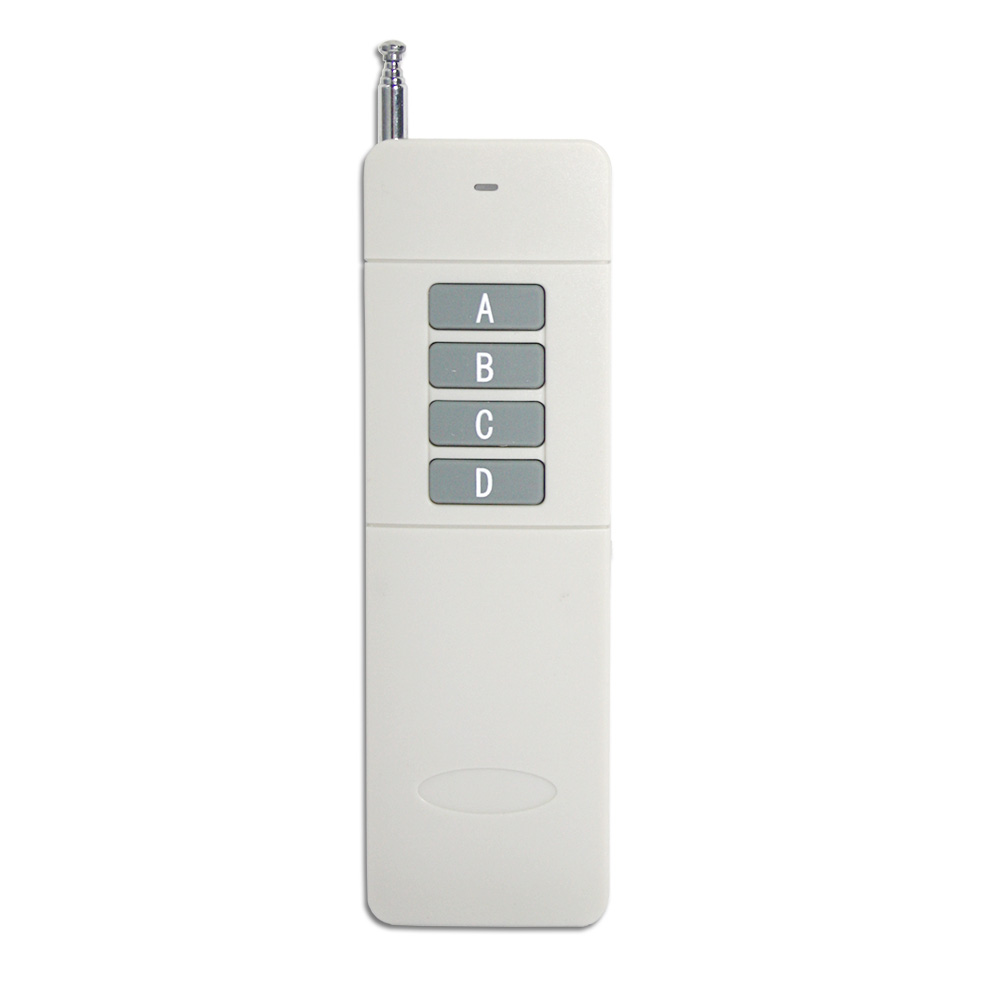 Description:
Two-way model: when the receiver gets the signal of transmitter, it will immediately send a return signal to the transmitter.When the transmitter receives the feedback signal of receiver, it will exude a buzzing sound.Feedback function: can let the user know whether he/she had already connect the transmitter and receiver successfully in such a long distance.
Please notice that this remote controller can be used only with our 2000-5000M wireless receivers. We usually recommend customer to choose receiver S4PUW-DC/AC.
1. The receiver S4PUW-DC/AC is relay output
,
it can be used to operate both DC and AC equipments.
T
he terminal is NO / NC (normally open / normally closed), which serves as a switch. That means you should also connect a separate power supply to it.
There is a video about 
The wiring of Relay Output
We also have remote control kit to choose
DC Relay Output 
remote controller kit :
4 Channel DC 2000-5000M Relay Output Two-way Remote Control Kit
AC Relay Output remote controller kit:
4 Channel AC 2000-5000M Relay Output Two-way Remote Control Kit
 If you want waterproof function for this remote controller, you may click here.
Control/Transmitter
CC-1
CC-2
CC-4
Button
1
2
4
Button Symbol
No Symbol
Big Button, Small Button
A/B/C/D

Unit Size    

135mm x 42mm x 25mm

Weight      

90g

Operating Voltage

9V (1 x 6F22 -9V battery, can be used for 12 months. Please switch on the control/transmitter when using it and switch it off when you don't use it)   

Working Current

65 mA/16mA (transmit / receive a signal)

Standby Current

5μA                                                                 

Operating Frequency

433.92MHz

Transmitting Distance

5000m (theoretically) 

Operating Temperature

-10 ° C to +70 ° C

Feedback indication

B

uzzing Sound

Encoding Type

C

ustom Code

Modulation Mode

FSK+LORA
1 x Transmitter: CC-4
 1 x 6F22-9V battery
 1 x User manual 
The warranty period is one year. During the warranty period, if the remote light switch products have problems in quality, we offer free replacement and you only pay the transport costs of the new package.
We provide continuous technical service before and after the sale. We help you choose the suitable products according to your requests before the sale. If you have questions about using the product after the sale, we will always be there.

Related Products