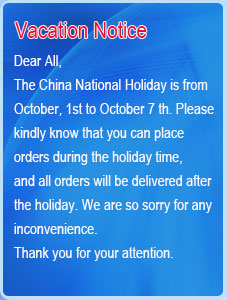 Wireless Vibration Sensor Detector for Alarm


Package:
1 x Wireless Vibration Detector
1 x User manual
Feature:
Model: 0010032 (W-12)
Protect your box, door/window, storehouses, shops, offices, etc...
Widely used in wireless home or business alarm system
Size: 70mm x 35mm x 15mm, antenna not included
Working distance: 100 m (Open field)
Decode: Fixed code by pins
Battery: 23A-12V battery (Included, useful life time 6-12 months)
Indication of low battery
Installation:
Choose your favorable positions in an environment.
Stick the detector to the designated surveillance location or items.
Usage:
Pull out the antenna of the vibration detector.
When the items are vibrated, LED 1 will turn on red light; the vibration detector will be triggered and will send alarming signal to the main unit.
Indication of low battery: When the voltage of battery is less than 7.5V, LED 2 will turn on red light. At this time, you should change immediately the battery.

Related Products